Coastal Hiking Adventure - Tips for an unforgettable nature experience
Simply clear your mind, soak up a good dose of sun and sea breeze - what better way to do that than on an extended coastal hike alongside water and dune landscapes? If you walk in this unique habitat, you can expect a very special nature experience. In this article we will show you how to equip yourself for the adventure of coastal hiking, what plants and creatures can be discovered and how to explore this particularly sensitive spot of the earth in an appropriate way.
Before you start...
What should be worn on a coastal hike?
The climate and soil conditions at the coast has special demands on clothing and footwear. There is hardly any other place where the weather changes so quickly from sunny and warm to windy and cool.
We therefore highly recommend dressing in layers with an outer shell that protects against wind and rain. Windbreakers or our waterproof teXXXactive® jackets are suitable for this. Those who don't chill easily will also be well equipped with a vest.
Underneath, a layer of cotton is a good choice. A sweatshirt or hoody keeps you warm, but can also absorb moisture and has a temperature-balancing effect.
As soon as there is no wind on a sunny day, the temperature rises quickly because the sand stores additional heat. Therefore, we recommend wearing a short-sleeved T-shirt as the bottom layer - for protection from the sun, it is best to choose a cut that sufficiently covers the shoulders.
Water, sometimes light-coloured sand and on the coastline, where it is most comfortable to walk, countless wet grains of sand that additionally reflect the light like a mirror - all these factors ensure that the UV intensity is particularly high during a coastal walk. Of course, this must also be taken into account when choosing suitable clothing.
In addition to using sunscreen, we strongly recommend sun-protective headgear such as a cap or bucket hat. If you have sensitive skin, it is better to go for long-sleeved T-shirts and shirts and trousers with long legs. In loose-fitting summer styles made of linen or cotton, you will still not be too warm on nice summer days.
Even on beautiful days, it can be quite rough at the coast. Grains of sand blown around by strong winds can feel like sandpaper on the skin. That's why we recommend wearing long trousers and socks during windy weather.
And the shoes? The first thought might be to just leave them at home, but the sand can get hot quickly and especially after a long winter in shoes and socks, you should be sure that the natural skin barrier under your feet can withstand the rubbing of the sand grains even after a few kilometres.
So what footwear is best for a coastal hike? Sandals without socks are not a good idea, as the sand can quickly start to chafe under the straps. Whether you're wearing a sporty sneaker or a boot, we recommend packing a comfortable pair of shoes and high socks – even if they may be dangling from your backpack for the longest part of your hike.
Let's go along the beach...
What can be discovered on a coastal hike?
Walking is best along the water's edge, where the last tide has levelled the sand. Only in rare cases do signs indicating private or closed sections of the beach block the hiker's way. You will pass the fluted cockle, the sand clam with its smooth, white surface and the elongated American sheath clam. Depending on the weather, there are times when you have to watch out for jellyfish.
Where there is seaweed or stones, it is worth taking a short break and looking closely: Mussels like to sit on the stones, densely packed in groups. But you can also discover the cap-shaped limpet or small crabs there. The latter also feel at home in the shelter of washed-up algae, where they sit together with many other small creatures that eat the nutrient-rich plant, such as sand fleas. The fleas, which are only a few millimetres in size, can jump up to 30 cm when you approach or touch the kelp.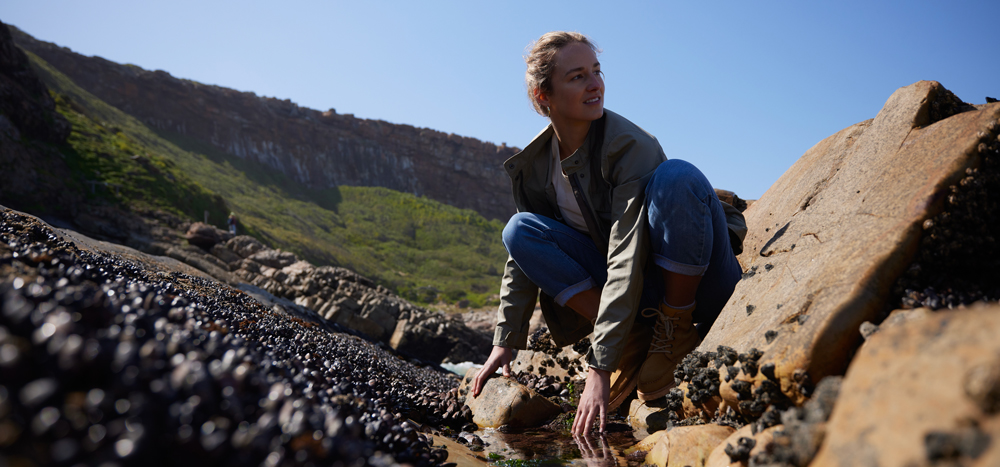 ATTENTION TIDELANDS BORDER
When walking on the Wadden Sea, it is essential to be aware of the boundary between beach and mudflats. Most of the Wadden Sea is a nature reserve, and the ground can be so soft just a few metres from the beach that you can sink into it up to your waist and be unable to free yourself without proper help. The tides can also become a dangerous trap if you don't know exactly when and how quickly the water will return. If you want to explore the unique habitat of the Wadden Sea, you can look for a guided tour. Experienced mudflat guides will guide you safely through the area and provide you with all kinds of information about the animals living there.
And up onto the dunes...
Is it allowed to go hiking in the dunes?
After some time along the water's edge, the gaze is likely to wander upwards into the dunes; a small climb with a view over the landscape offers a nice change on any hike.
However, dunes fulfil important functions in terms of landscape and nature conservation, so it is particularly important to pay attention to the respective applicable rules on dune and nature conservation and not to leave boardwalks and marked paths. Where these do not exist, nature fans sometimes have to accept that the dune may not be entered.
Why is dune protection so important? If humans and the plants growing on them did not fix the sand, the grains of sand would be carried on and on by the wind - the dune would migrate. The villages and landscapes behind it, however, cannot do that and would either be overrun by the sand or the whims of the sea. Therefore, dune protection is always also landscape protection and every plant that takes root on the barren sandy soil must be supported in the process.
Another tip: Even if the dunes are not open for hiking on your own, there are many places where you can join guided dune walks. Especially at popular tourist destinations, it can be worthwhile to look for such an offer.
What can you discover on a dune hike?
Nature experience of the dune landscape
If access to the dunes is permitted, you should definitely go for it, because there are real specialists to be discovered here. Heat, high light intensity and grains of sand flying around in the wind, sharp as sandpaper - only very special plants voluntarily expose themselves to these conditions. You can smell dune rose and potato rose from a distance, but sea buckthorn and sea thistle also provide splashes of colour. In between, numerous grasses such as beach rye or beach fescue give the ground stability.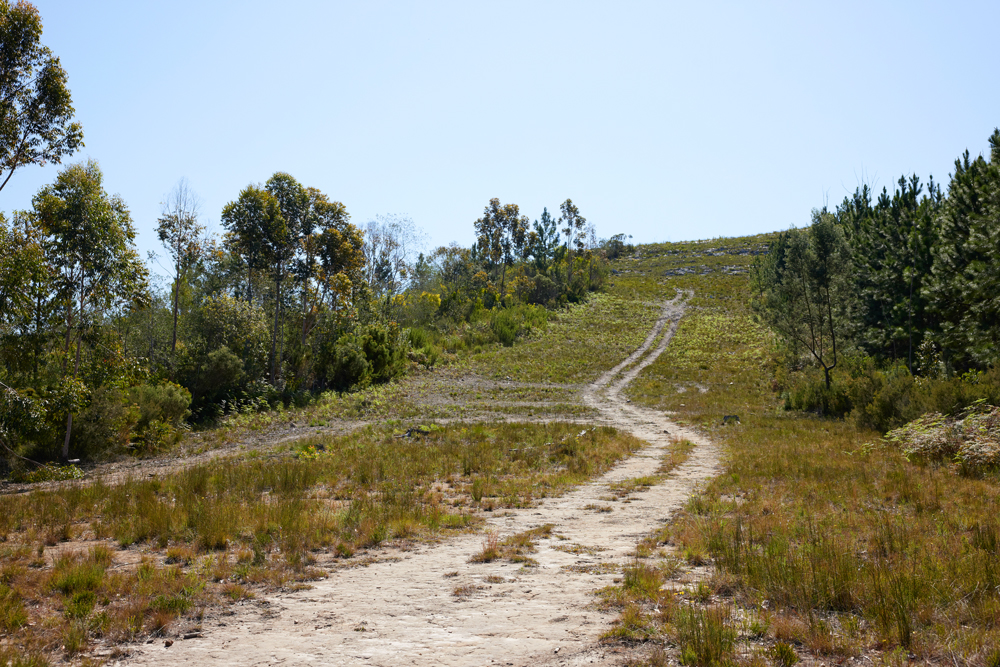 Where did I actually end up here?
Function and structure of dune landscapes
From a good vantage point, the formation of dune landscapes can be seen in wonderful detail. Directly behind the beach, the so-called white dunes rise into small hills on which the first sea grasses take root and thus gradually fix them. Behind them rises the part you will probably be standing on during your hike, the so-called grey and brown dunes.
You can take the name literally, because the older the dunes are and the further inland they have been transported, the longer plants have been growing on them. Through the process of humus formation, the colour of the dunes increasingly changes from sandy-white to earthy-brown.
It is usually easy to see that the plants grow larger and larger in the direction of the brown dune, and due to the decreasing salt content in the soil, other plant species settle there than in the front rows of the dune vegetation.
Even experienced hikers can discover nature in a completely new way in the special habitat around the beach and dune. We wish you lots of fun on your coastal hike adventure and look forward to your feedback on this very special nature experience!